Yesterday I went to bodycombat class and it was awesome….I love it :) One hour body combat is just so nice (although I felt exhausted and hungry after that- can it make it fatter? eat lots after work out hahaha…)
Anyway, bodycombat is the empowering cardio workout where you are totally unleashed. It's inspired by martial arts and draws from a wide array of disciplines such as karate,boxing, taekwondo, tai chi and muay thai. It is an one hour class supported by crazy driving powerful music plus instructors so they just boost your stamina to strike, punch, kick and kata your way through calories to superior cardio fitness.
After some browsing, I found out that bodycombat give us quite a lot of benefits which are:
Improves heart and lung function and reduces the risk of heart disease

Tones and shapes key muscle groups

Burns calories for a leaner body

Improves co-ordination and agility

Improves bone density

Improves posture and core strength and stability

Builds self-confidence
Attending my first class, make me a little bit confuse and afraid that I can't catch up with them, but it is not real damn hard to follow them because the moves are simple so you don't need to be especially well coordinated :) so just give it a go hahaa…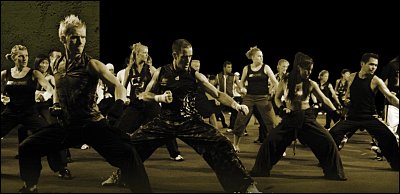 I used to attend bodypump class as well, they use barbell and I don't have enough power to leave the barbell whenever the instructor ask us to >.< Comparing to these two classes. I will choose bodycombat as my fav cause all you need is jump, kick, punch and it's just like dance class (I love dancing :D)
The effects of this bodycombat are make my body hurt (maybe I'm still new) and it makes me addictive (looking forward on their next class ).